Gimchoen Major attended commerce meeting to discuss industrial problems

2018-08-20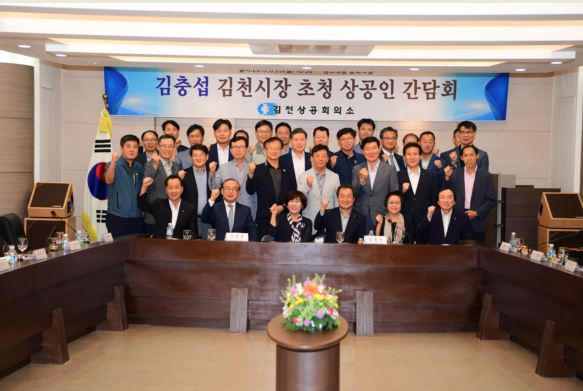 The Gimcheon Chamber of Commerce and Industry (President Kim Jung-ho) held a meeting with Kim Chung-seop, the Mayor of the Chamber of Commerce and Industry, at the meeting room on the 2nd floor of the Main Conference on August 20 at 6:30 pm.

The meeting, which was attended by more than 30 people including Chairman Kim Jung Ho, President Byung Kee Chung of Keyyang Precision, Chairman Shim Taek Soo of Jae Young Chemical, Geum Hwa Seong of Gimcheon Women's Businessmen Association, CEOs of large companies, and representatives of major companies in the region to find ways to revitalize the local economy and enhance the vitality of the business by communicating with local business people.

Kim Jung-ho, said "Businessmen should work together to solve the problems of minimum wage increase and shortening of working time in a good manner. Let`s discuss this today in a frank manner and find ways for the city and businesses to develop mutual growth."

Kim Chung-seop, in his greeting, said, "I am always grateful to the merchants who offer job opportunities to the citizens and support the local economy," and " I will always do my best to make sure that my troubles are resolved by always listening to them. "He said," I will meet more frequently with local business people and actively communicate. "

On the day, the businessmen attending the meeting attended the meeting to set up a regional conflict resolution committee to solve the minimum wage increase problem, the immediate solution of the problems related to the enterprise and the permission of the enterprise, the priority use of products produced by local enterprises, and encourage regular meetings with business people.

Mayor Kim Chung-seop said, "Citizens with jobs will make every effort to create a happy city." He said, "I would like to ask the businessmen to give continuous care and support to the Gimcheon municipal government. We will create an atmosphere where the public officials can work on their own. "