President Moon attends the Korea-India Business Forum

2018-07-09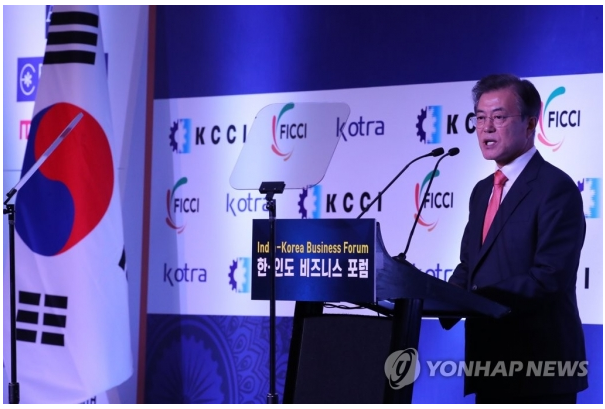 Han • India '3P Plus' Partnership' Suggest ... People • Peace • Prosperity to the future
"India, the Fourth Industrial Revolution Potential: A New Growth Power Partner ... Accelerating New Northeast Policy"
Minister of Commerce, Industry and Commerce, "Please grow with Korea and make India your second home"

(New Delhi, November 9, 2004) - President Moon Jae-in, who is visiting India on a state visit, attended the Korea-India Business Forum held at the Taj Palace Hotel in New Delhi, India on Tuesday.

In particular, President Moon suggested that the two countries should expand their cooperation in future technologies in preparation for the Fourth Industrial Revolution.

In the case of India, the president is highly regarded for its market growth potential and for the possibility of the development of science and technology industry.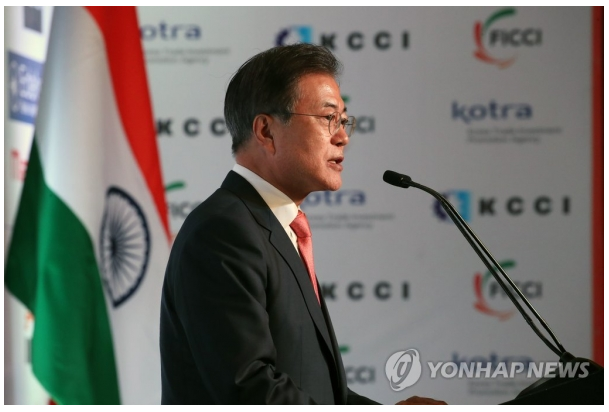 In addition, while the keyword of the new Southern policy is summarized into 3PS such as "People, Prosperity, Peace," Korea and India are discussing the "3P Plus Partnership" "He said.br>
Specifically, Moon emphasized the need to focus on strengthening manufacturing cooperation, strengthening infrastructure construction cooperation, expanding future technology cooperation, and strengthening the trading base.

Park Yongmaan, chairman of the Korea Chamber of Commerce and Industry, said, "The two countries are working on revising the Comprehensive Economic Partnership Agreement (CEPA), discussing economic integration in the Asia-Pacific region and participating in policy cooperation at the G20 (major 20 countries) Businessmen to gather together to see, "he said.

Park said, "I have recently been evaluated about the performance of India as 'sleeping elephants are about to run now.'" To continue to make a strong entry, sometimes it requires encouragement and sometimes a companion. Korea is a sincere Indian companion I hope it becomes. "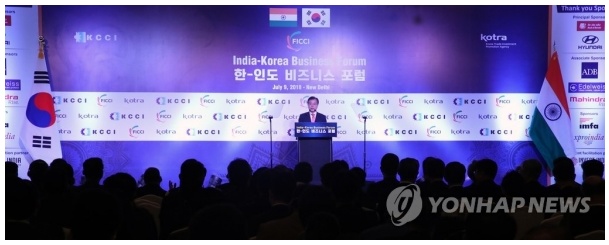 Rashesh Shah LaSeesha, Chairman of Federation of Indian Chambers of Commerce & Industry, said, "India's industry is looking forward to economic cooperation with Korea in the sense that it is complementary to the New East Policy of India, I am confident that I will contribute to the creation of a peace community. "

"I would like to meet with chief trade negotiator Kim Hyun Chong and develop the relationship in the future to develop early results under the CEPA." "I would like to create a special economic zone and make it a private enterprise for Korean companies," said Suresh Prabhu, Union Minister for Commerce and Industry.

He said, "Korea Plus is not enough and Korea Square is needed." "India is really a market to invest in. We need a friend like Korea who cannot grow up alone and is precious in our heart. It is different. "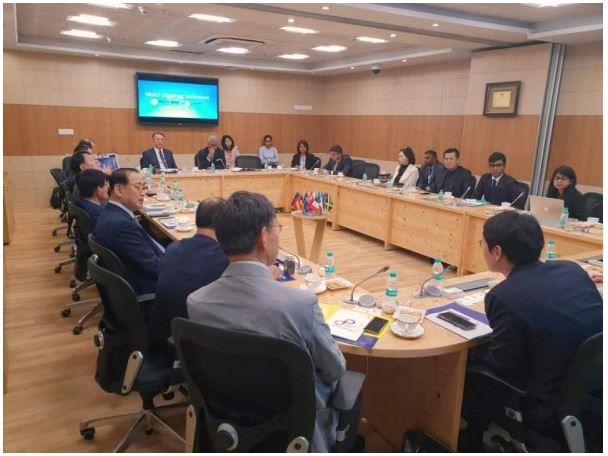 ​​​​​​​​
More than 400 people, including representatives from Korea and India, and government officials, attended the forum.

In Korea, more than 200 executives, including Hyundai Motor, LG Electronics, Lotte Group, GS Caltex, SK Lubricants, Hanhwa Defense, KB Financial Group, and executives of 67 medium and small enterprises,

Tata Group, Reliance Industries and Mahindra Group, which are closely cooperating with the Korean companies in the fields of automobile and wireless communication network, also attended the meeting.

"India is a country with a great potential in the 4th industrial revolution and is emerging as a partner for growth of our company to create new growth engines." President Moon's keynote address will expand cooperation between the two countries. It will be a momentum for accelerating the new southward policy based on India as well. "